Infinity Angioplasty Balloon Company
Introducing INFINITY Precision Angioplasty®
The world's most advanced PTA balloon catheters
Infinity Angioplasty Balloon™ Company has developed the world's most advanced PTA balloon catheters for minimally invasive treatment of infra-inguinal PAD. Based on a highly innovative and proprietary technology, INFINITY Precision Angioplasty® balloons adjust to any length lesion, 40mm – 250mm IN VIVO with precision controlled by the interventionalist – covering 95%+ of PAD size needs (length x diameter).
---
Two breakthrough platforms
INFINITY PRECISION ANGIOPLASTY Balloon®
Our workhorse for POBA for real-world lesions.
Cleared to market in US for iliac, femoral-popliteal and infrapopliteal lesions.
To the millimeter balloon/lesion coverage to reduce risk of dissection
One size fits most to reduce the cost of inventory management
Proprietary semi-compliant balloon construction to address 95% of patients needs
Designed to cross tough lesions with ease
INFINITY DEFENDER DCB™
Securely deliver DCB to the lesion site, reducing drug loss in transit, reducing risk of toxicity or downstream effects by delivering the exact amount of drug needed.
Not yet cleared to market in US.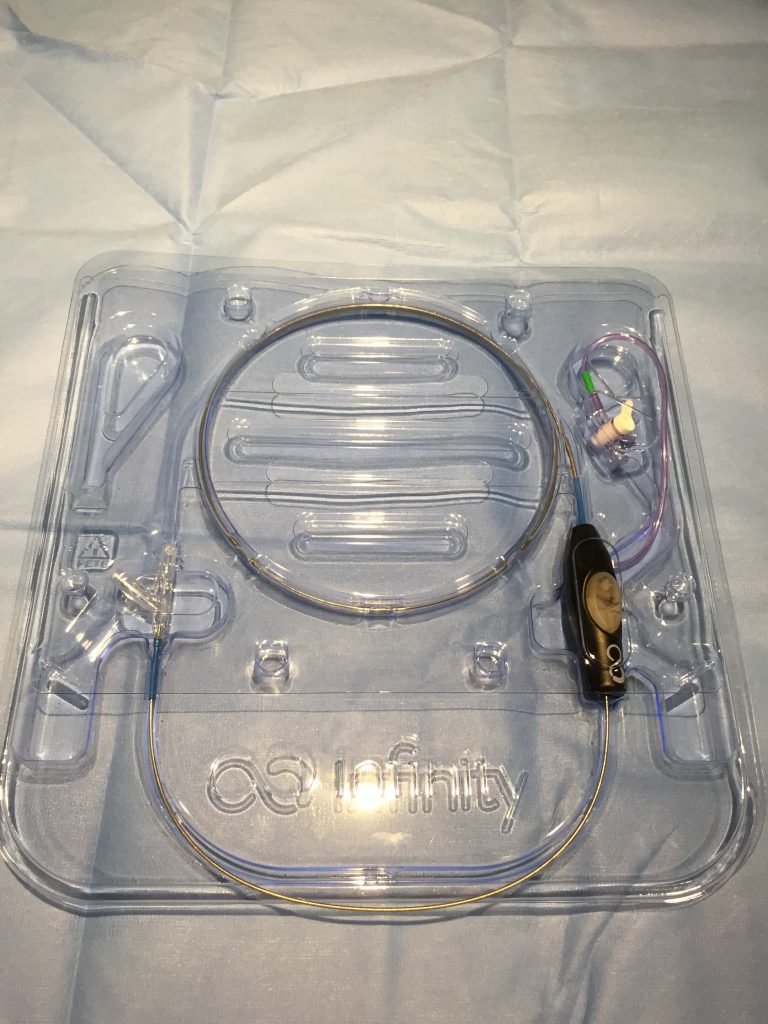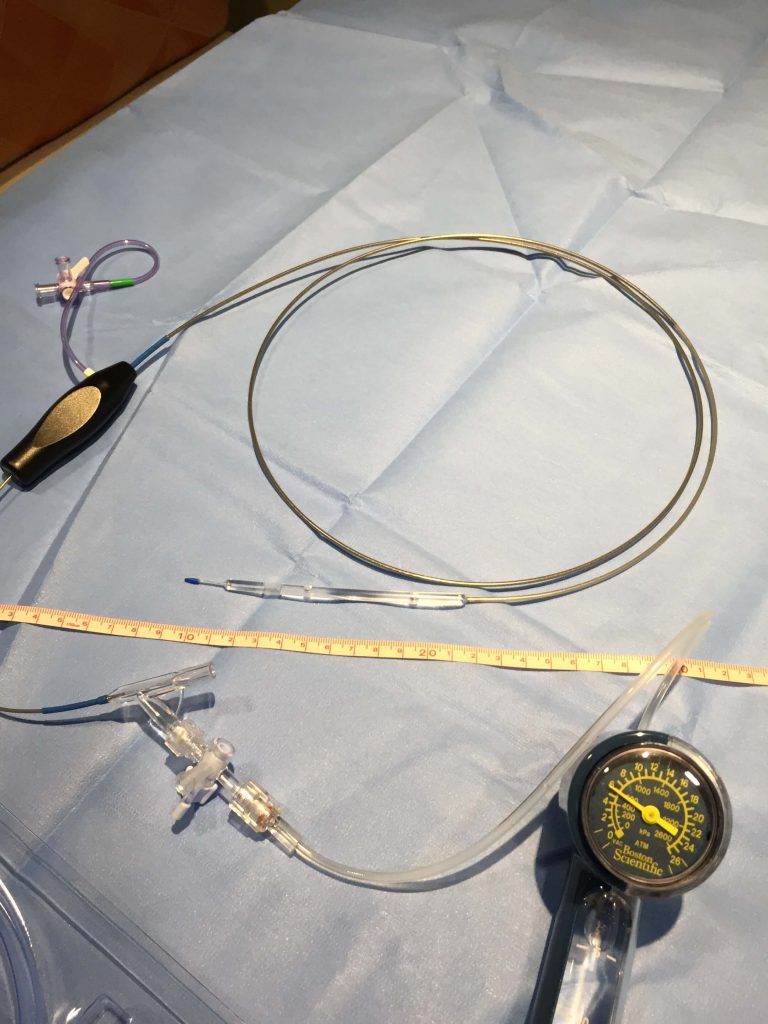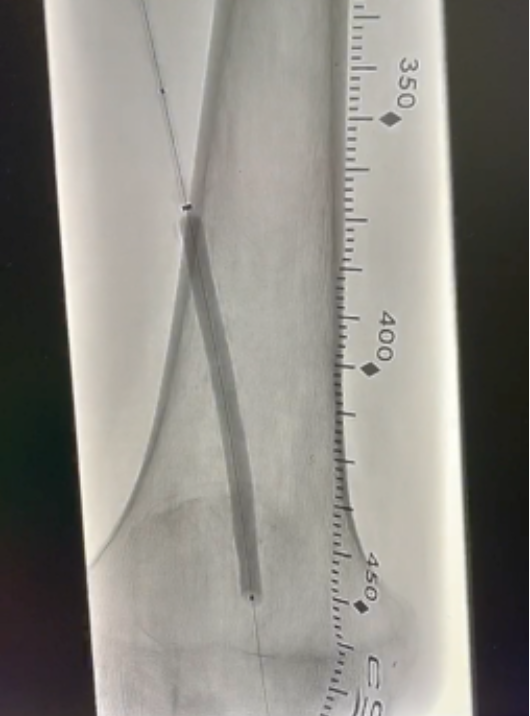 What they are saying in the lab
Infinity Defender DCB™
A protected balloon assures complete drug deposition precisely at the lesion – macro-protection.
Drug won't scrape off or elute into the blood stream during catheter insertion or removal
Innovative nano-particle coating technology provides single coat efficiency and micro-protection for delivery at the lesion
The only DCB available that is adjustable to the mm, in vivo, from 20mm to 250mm
Right length at your command all the time, every time
Reduce edge dissection and prevent geographic miss
* In development, not yet cleared by FDA.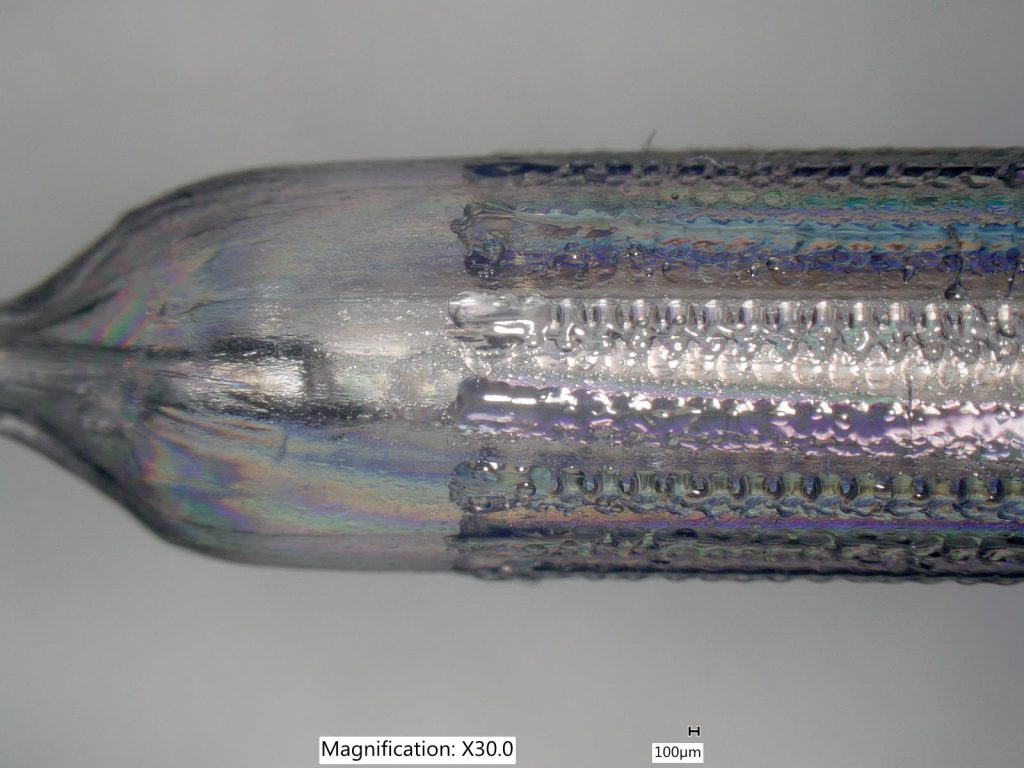 Technical Specifications
| Specifications | Fem-Pop | Infrapopliteal (not yet cleared in US) |
| --- | --- | --- |
| Balloon Length(s) | 20mm – 250mm adjustable | 20mm – 250mm adjustable |
| Balloon Diameter(s) | 5.0 – 5.5mm; 6.0 – 6.5mm | 2.0; 2.5; 3.0mm |
| Catheter Working Length | 125 cm | 155 cm |
| Wire Size | 0.018 in./0.5mm | 0.014 in. |
| Introducer (Recommended) | 6 F (OTW) | 5 F (Monorail) |
| Nominal Pressure | 5 atm | 5 atm |
| Rated Burst Pressure | 14 atm | TBD |
| RO Marker(s) | 0mm; 100mm; 200mm; 250mm | TBD |
| Sterilization | EO | EO |
About us
Founded in 2013 and developed in the lab of John Pigott, MD (Promedica Health System, Jobst Vascular Institute and Mayo Clinic trained vascular surgeon), the Company today is working with key opinion leaders in hospitals and OBL endovascular labs to participate in its limited market release of the PRECISION Angioplasty Balloon®.